2017:
December 11: The studio recording of BOOM!!! …for Real! is complete. You can hear it here on my soundcloud page. Thank you to everyone who helped make this project possible. Thank you to saxophone soloist Zach Shemon and the UMKC New Music Ensemble conducted by Boris Vayner. Thank you to the ensemble members: Virginia Q. Backman, Erik Hose, Ashtin Johnson, Aubrie Powell, Matt Anderson, and Hao Yin for an amazing performance.  Thank you to Jason Scheufler for recording and producing. Special thanks to Wildacres Retreat, the Millay Colony, and the Virginia Center for Creative Arts for the time and space to compose this piece.
December 4: The University of New Mexico New Music Ensemble will perform, Five Scenes in Mobile Form.
December 2: Impact, for solo snare drum and percussion trio will premiere at UMKC. Percussionist, James Harris commissioned the work for his first DMA recital. – POSTPONED Spring 2018
November 4: Helix, for solo spiral trash cymbal will be performed by percussionist, Erik Schmidt at the University of North Carolina at Greensboro.
Fall 2017: I am excited to announce that I am now an Adjunct Instructor in Music Theory at UNCG.
September 21: I am performing on the new Greensboro concert series, a la carte.
July 31: Alex Caselman's disc of new trumpet works including my piece, Flash Points, for solo trumpet & flugelhorn is available on cdbaby, iTunes, Spotify, Pandora, Youtube Music, Amazon MP3, and Google Music Store.
The first draft of Oskoreia, for tuba/euphonium quartet is complete. The work was commissioned by The Four Horsemen Tuba/Euphonium Quartet and will premiere during the 2017-2018 concert season. The score will be available for purchase through the store section of this site.
I am excited to begin a new work for accompanied solo snare drum commissioned by UMKC graduate percussionist, James Harris.
July 6: Flash Points, for solo trumpet & flugelhorn was recently recorded by Alex Caselman and will be released on his CD, Clamored Cantos. More details on the release as they become available.
July 6: Amy Zigler, resident musicologist, accompanist, collaborator, and wife launched her site. You can visit her  and learn about the life and music of Dame Ethel Smyth here.
June: Percussionist Corey Denham performed Helix, for solo spiral trash cymbal at the Fresh Ink Festival in Wisconsin.
May 24: Percussionist John R. Beck performed Helix, for solo spiral trash cymbal at SECCA in Winston-Salem, NC with Forecast Music.
May 10: Dissertation defended!
May 4: Saxophonist Zachary Shemon and the UMKC Musica Nova will premiere, BOOM!!! …for Real!  my new chamber concerto for alto and tenor saxophone influenced by the three American painters: Cy Twombly, Franz Kline, and Jean-Michel Basquiat.
April 7: Tubist Brielan Anderson will perform Five Scenes in Mobile Form at Salem College
March 10: The new saxophone version of Hemingway was a Bomb Maker will premiere on the EMCC New Music Conference at UMKC. Here is video of the premiere!
Received video of the ISB performance of my string quintet. The work was performed by the VSU Faculty Quintet at the 2015 ISB Convention hosted by Colorado State University.
January 27 – 28: Flash Points, for solo trumpet will debut on the SCI Region IV conference hosted by UNCG.
Fall 2016:
September 14 -24: Artist Residency Wildacres (North Carolina)
September 28: premiere of GRAPHITE, for Wind Ensemble, UMKC Wind Ensemble, Dr. Joe Parisi, conductor
October 4 – 31: Artist Residency, Millay Colony (New York)
November 1 – 15: Artist Residency, VCCA (Virginia)
December 6: Performance of Helix, for solo spiral trash cymbal and Flash Points, for solo trumpet, UMKC Composer's Guild Concert
August 2014
Here is the first bit of press concerning the premiere of , 
Thronateeska, concerto for mixed quartet and orchestra.
 March
Trio Chymera will perform a recital featuring SQUIRREL!!!, Klangfunk'nmelodie, and a new work, Slow Burn at the 2014 North American Saxophone Alliance, hosted by the University of Illinois.
For more info please visit http://nasaconference.com/
February
premiering…
for flute and drum set
February 7, 2014 – 7:30 pm
The Greensboro Fringe Festival Presents: Collisions and Conversations
COLLAPSS Concert Series #6
Empire Books 1827 B Spring Garden St., Greensboro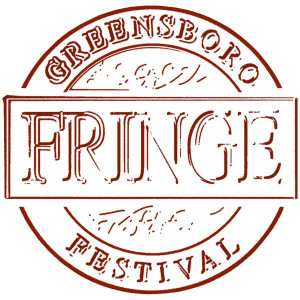 February 9, 2014 – 3:30 pm
Janet Watson Phillips, DMA flute recital
University of North Carolina at Greensboro Recital Hall
 February 23-24, 2014
Janet and Justin will be presenting the work while on tour with the UNCG New Music Ensemble Present Continuous. Hemingway was a bomb maker will be performed at Winthrop University and Georgia Southern University.
December 20, 2013 – 7 pm
 COLLAPSS Concert Series #5
Empire Books 1827 B Spring Garden St., Greensboro
November 22, 2013 – 7 pm
 COLLAPSS Concert Series #4
Empire Books 1827 B Spring Garden St., Greensboro
A multimedia presentation of Thinking About How We Just Lost Contact 
was performed.
Art in Odd Places – Greensboro 
BRIANNA TAYLOR, CAROLINE ALTHOF & STEVEN LANDIS 
A Natural Sequence of Movement
This migratory dance work explores how to physically attend to specific locations while conceptually investigates the Fibonacci number sequence. It migrates down Elm Street, beginning at the The Book Trader and finishing at Elsewhere. In each location the dancers engage in a choreographic structure based on the numerical significance of the Fibonacci number sequence through spatial pathways, repetition of movement, and interaction between the performers. Steven Landis will construct a musical score also based on the Fibonacci sequence using found objects, as well as traditional instrumentation, with featured musician Tiffany Lamb Powell. The work hopes to provide unexpected encounters with audience members and bystanders that might not otherwise encounter a dance and music performance in a traditional theater setting.
Date: Nov. 1, 7:30pm – 8:00pm & Nov. 2, 2pm – 2:30pm 
Location: Start – 312 Elm / The Book Trader; 336 Elm / Elm-McGee Parking; 400 Elm / E1 – Old Train Station; 532 Elm / Alley; & 606 Elm / Elsewhere – Finish
Trio Chymera will perform my new work,
Klangfunk'nmelodie during their 2013 Fall tour.
University of Missouri
Whitmore Recital Hall
September 16, 2013
7.30 PM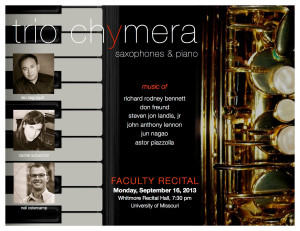 University of Missouri – St. Louis
September 17, 2013
4.30 PM
High Point University
September 24, 2013
5.30 PM
10th Annual UNCG New Music Festival
September 25, 2013