August 2014
Here is the first bit of press concerning the premiere of , 
Thronateeska, concerto for mixed quartet and orchestra.
 March
Trio Chymera will perform a recital featuring SQUIRREL!!!, Klangfunk'nmelodie, and a new work, Slow Burn at the 2014 North American Saxophone Alliance, hosted by the University of Illinois.
For more info please visit http://nasaconference.com/
February
premiering…
for flute and drum set
February 7, 2014 – 7:30 pm
The Greensboro Fringe Festival Presents: Collisions and Conversations
COLLAPSS Concert Series #6
Empire Books 1827 B Spring Garden St., Greensboro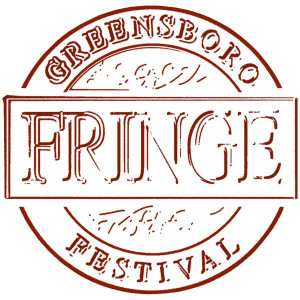 February 9, 2014 – 3:30 pm
Janet Watson Phillips, DMA flute recital
University of North Carolina at Greensboro Recital Hall
 February 23-24, 2014
Janet and Justin will be presenting the work while on tour with the UNCG New Music Ensemble Present Continuous. Hemingway was a bomb maker will be performed at Winthrop University and Georgia Southern University.
December 20, 2013 – 7 pm
 COLLAPSS Concert Series #5
Empire Books 1827 B Spring Garden St., Greensboro
November 22, 2013 – 7 pm
 COLLAPSS Concert Series #4
Empire Books 1827 B Spring Garden St., Greensboro
A multimedia presentation of Thinking About How We Just Lost Contact 
was performed.
Art in Odd Places – Greensboro 
BRIANNA TAYLOR, CAROLINE ALTHOF & STEVEN LANDIS 
A Natural Sequence of Movement
This migratory dance work explores how to physically attend to specific locations while conceptually investigates the Fibonacci number sequence. It migrates down Elm Street, beginning at the The Book Trader and finishing at Elsewhere. In each location the dancers engage in a choreographic structure based on the numerical significance of the Fibonacci number sequence through spatial pathways, repetition of movement, and interaction between the performers. Steven Landis will construct a musical score also based on the Fibonacci sequence using found objects, as well as traditional instrumentation, with featured musician Tiffany Lamb Powell. The work hopes to provide unexpected encounters with audience members and bystanders that might not otherwise encounter a dance and music performance in a traditional theater setting.
Date: Nov. 1, 7:30pm – 8:00pm & Nov. 2, 2pm – 2:30pm 
Location: Start – 312 Elm / The Book Trader; 336 Elm / Elm-McGee Parking; 400 Elm / E1 – Old Train Station; 532 Elm / Alley; & 606 Elm / Elsewhere – Finish
Trio Chymera will perform my new work,
Klangfunk'nmelodie during their 2013 Fall tour.
University of Missouri
Whitmore Recital Hall
September 16, 2013
7.30 PM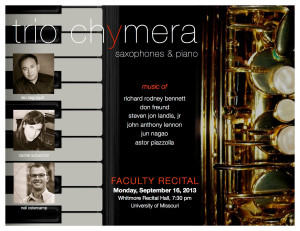 University of Missouri – St. Louis
September 17, 2013
4.30 PM
High Point University
September 24, 2013
5.30 PM
10th Annual UNCG New Music Festival
September 25, 2013