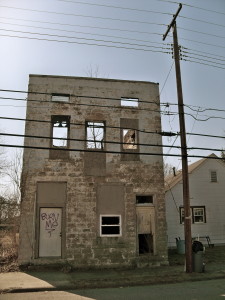 I. Ravenswood
II. Fort Lonesome
III. the Holey Lands [sic]
Thesis: String Quintet No.1 (ghost town portraits) (2012)
Instrumentation
2 violins / viola / violoncello / double bass (with c extension) or string orchestra
optional: conductor, amplification of ensemble
* please see score for other technical and performance considerations
Performance History
Performed live on February 8, 2013 at The University of North Carolina at Greensboro
Lauren Eastman, violin I; Anna Baker, violin II; Eric Eakes, viola; Charlie Rasmussen, violoncello;
Steven Landis, double bass; Tim Ellison, conductor
Program Notes
Cast in three-movements, this work is a sound journal recalling the feelings experienced while traveling the Eastern United States through places where desolation, openness, claustrophobia, hope, hopelessness, and isolation are common residents.
I. Ravenswood
Through the slow decay of a river town, the American dream fades as it is fulfilled.
II. Fort Lonesome
During the 1930s, Fort Lonesome hosted a mill, a general store, and an inspection station for all produce entering south Florida. The inspection station closed, the mill burned, and at a lonely crossroads sits a general store patiently waiting for its front door to chime.
III. the Holey Lands [sic]
A small facet of the Florida Everglades once used by the U.S. military as a bombing range, The Holey Lands are as beautifully remote as they are harshly desolate.